Crumbs & Whiskers: Los Angeles
Closing June 8 for renovations. Re-opening as The Kitten Lounge June 15.


Every C&W Experience is 70 minutes, the perfect amount of time to relax with cats, drink your favorite latte, and adopt!
Our cats are rescued from high kill shelters.
We recommend booking your visit online to guarantee entry. Space is limited for the health, safety, and comfort of our cats.
*We also offer limited 15 minute experiences, on a walk-in availability only.
Visit Crumbs & Whiskers: The How-To Guide
1. Make a contribution to book your Experience between now and June 8*.

2. Sign the C&W Waiver for yourself and your guest(s).
3. Arrive 5 minutes early to your Experience to check-in and place your order.
4. Cuddle cats, sip coffee, and wonder if this is real life.

70-Minute Experience: $25 +
15-Minute Experience (Walk-In): $9 +
To purchase your Experience, you can make our suggested contribution or give more. Your contribution enables us to care for our rescue cats, provide them with a nurturing environment, and ensure they are adopted to the right homes.
Thank you for your support. Our cats can't wait to see you!
Some Things To Note:
15 Minute Experiences are walk-in experiences only, based on availability, and do not include food/drink service.
To ensure the safety of our cats and your children, the age minimum to visit is 7 years old.
Children under the age of 13 must be accompanied by an adult.
Groups larger than 8 must book a private event to ensure that all of our guests have an incredible experience.
Book Your Crumbs & Whiskers Experience (LA)
Bookings for our LA Cat Cafe are available through June 8.
For visits after June 8, please visit our LA Kitten Lounge Booking Page.
The Friends & Fam Experience
Visit Crumbs & Whiskers with your posse and get 25% off!
Enter promo code: SquadUp at checkout.
[Available on weekdays for parties of 4 or more. Not valid for Kitten Lounge visits]
DIGITAL GIFT CARDS
PURCHASE DIGITAL GIFT CARDS HERE.
[CAN BE USED TO BOOK YOUR CAT CAFE EXPERIENCE ONLINE. Not valid for Kitten Lounge visits. To book a digital gift card for The Kitten Lounge LA, head to our booking page HERE]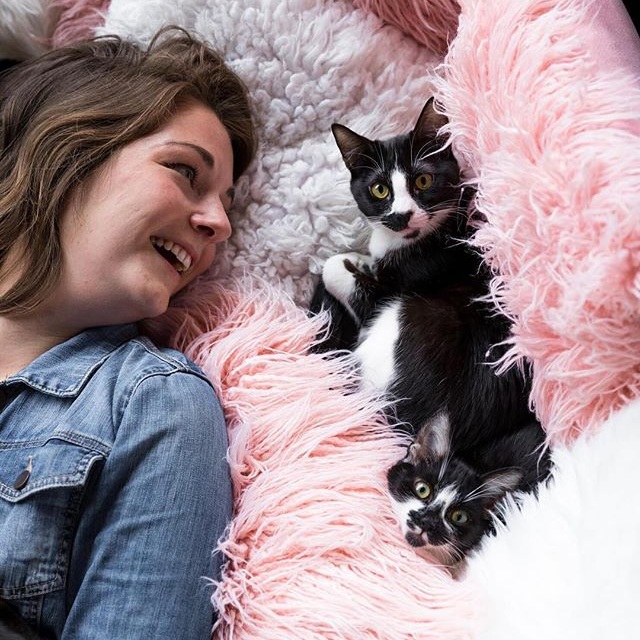 Our Location
Crumbs & Whiskers
7924 Melrose Ave,
Los Angeles, CA 90048
(323) 879-9389
Hours:
Mon - Tues: 11 AM - 7:45 PM
Wed: Closed
Thurs - Sun: 11 AM - 7:45 PM
Contact Us
Note: Please give us at least 24 hours to respond. If your inquiry is more urgent, please call our store.